04
THE PADDOCK (PLAYING FIELD) OPPOSITE THE NATIONAL SCHOOL
BACK TO HOME
Tipperary is passionate about sport, hurling in particular. While many youngsters find a social and physical outlet in sport, there are others who do not have this interest and for those youngsters, the opportunities for fun, daring and challenge have to take other forms, many of which are not sanctioned by society.
In 2007 an art project called Imagining Silvermines; a psychogeography took place in Silvermines, taking the form of a temporary museum. This Imaginary Museum gathered whatever information the community of Silvermines were willing to share about their place. The project received a lot of visits from local youth, who were cautious about sharing any information. Towards the end of the project, they divulged that a place called 'Paradise' was located in the direction of the mines, but they wouldn't elaborate on its meaning.
Source/ Local conversations, artists' & writer's observations
Artwork/ Clive Moloney, Sally Anne McFadden & Fiona Woods
04/Front
The Silvermines team that won the North and County Intermediate Hurling Championships in 1972. Image from a photocopy lent by Michael O'Brien
Back Row/ Maurice Daffy, Jimmy Ryan, Pat Sheehan (at rear), Sean Forde, Eamonn O'Doherty, Jack Dunlea, John Kennedy, Liam Gleeson, Johnny Forde, John Sherlock, Michael Hanly (injured), Tom Gleeson (selector), Dan Keogh (supporter), Paddy Quinlan (selector), Paddy Collins (selector). Centre Row/ Tom Kennedy, Michael O'Sullivan, Jim Keogh, Jim O'Brien, Sean Hogan, Pat Dunlea, Joe Forde, Michael Fitzgibbon. Front Row/ Pat Quinlan and Michael O'Brien.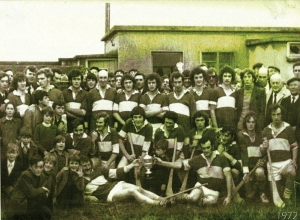 04/Back
Information shared by Silvermines youth.