The present day Marian Shrine or Grotto was erected in the Marian Year of 1954, by the first Silvermines Development Committee.
It occupies a site formerly known as the Old Pound. The Pound is a relatively common feature of small villages, consisting of a piece of common or waste land. Different accounts are given of the origin of the term. In some cases, stray cattle or horses would be impounded in the Pound and their owners made to pay a small fee to release them. It is said that during the years when most of the land around here was rented from Lord Dunally, tenants who could not pay their rent would have animals or belongings seized by the Bailiff; these would be auctioned in the Pound.
Source/ Local conversations
Artwork/ Fiona Woods
07/Front
Image of Old Pound, before shrine was erected. Image lent by Pat Keane.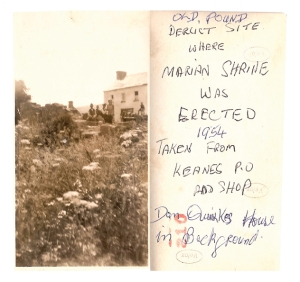 07/Back
Story of the opening of the shrine by a pupil from Silvermines National School, Laura Moloney, 2007. The correct name for the sculpture commissioned by the people of Silvermines for the public square is The Metal Miner; use of the popular term The Tin Man is discouraged.