The Silvermines Fife and Drum band was established in the 19th C and was much in demand for Land League rallies in the county in the early 1880s. In the early 20th C the band held rehearsals and stored instruments in the two-story schoolhouse, across from the church. A story is told that a parish priest, who had a grievance against the band, removed one of their drums from the schoolhouse and held it ransom. The band took the matter to court and the priest was ordered to return the drum.
Close to this site on Main St. is a house, the front room of which was used for Irish classes in the 1920s, organised by a roving Timire (an Irish organiser employed by Conradh na Gaeilge), name unknown. This same room had served as a soup kitchen during the Great Famine (1845 – 1852).
The width of this main street is due to the fact that a river used to run down  the middle of it, separating two townlands. The river disappeared either through mining activity, or it was diverted into an underground culvert.
The nearby Mogul mine created a honeycomb of underground tunnels in this area. One of these, K-zone, was a seven acre site at the edge of the village, which had a garage, canteen and workshop. These were all flooded following the closure of Mogul mine.
Source/ Local conversations & internet
Artwork/ Fiona Woods
06/Front
Silvermines Fife and Drum band marching in Main St. Silvermines, 1935. This occasion marked the return of the famous Silvermines Cup, which had been won by Silvermines many years before in the county final, but which had been missing for some years. Along the street are lime trees planted to mark the 1932 Eucharistic Congress. Image from photocopy lent by Michael O' Brien.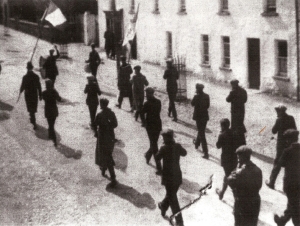 06/Back
Conradh na Gaeilge poster from the 1940's.