10
JUNCTION OF LIMERICK RD. AND TRACK KNOWN AS CROMWELL'S ROAD
BACK TO HOME
This site marks the spot known locally as Cromwell's Road. Local lore says that Cromwell's forces built the new road in 1650 in order to move their heavy artillery and troops to Limerick for the siege of Limerick. Cromwell himself had already left Ireland by the time that these forces were moving towards Limerick, under the command of Henry Ireton.
Cromwell's status in Ireland is second only to 'the devil himself'. As Winston Churchill said – " 'Hell or Connaught' were the terms he thrust upon the native inhabitants, and they for their part, across three hundred years, have used as their keenest expression of hatred 'The Curse of Cromwell on you.' … Upon all of us there still lies 'the curse of Cromwell'."
The original curse in Irish is 'Malacht Cromail ort'.
Source/ Local conversations and internet
Artwork/ Clive Moloney
10/Front
Warning for heavy artillery crossing.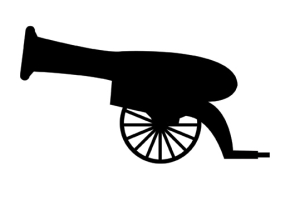 10/Back
Image based on a statue of Cromwell.