Mogul Mine opened in 1968 and was operated until 1982 by Mogul of Ireland, registered in Canada. It currently has the status of an 'orphaned' or abandoned mine, meaning a mine site in which the mine operator or exploration company has ceased or indefinitely suspended their activities, but without rehabilitating the site. This was a large zinc-lead mine worked from shafts, now abandoned and flooded.
Production over the life of the mine amounted to 107 Mt at 7.36% Zn and 2.7% Pb. These minerals were both privately and State-owned. The State-owned minerals were worked under a State Mining Lease that was valid for 33 years from 1965 to December 1998. The mine-works site includes settlement ponds, a tailings lagoon and the mill where ore processing operations were carried out prior to export of concentrates for smelting. 3kms to the west of this site is the Gortmore Tailings Management Facility. In 1999, following a number of cattle deaths from lead poisoning in the area, an Inter Governmental Agency Group (IAG) was established to investigate the presence and influence of lead on animal and human health in the area. The stream from the Garryard mine complex had evidence of serious pollution caused by high concentrations of zinc, cadmium and lead. The high lead concentrations recorded in the stream leaving the Garryard complex contribute to the lead load in the Yellow River. Clause K of the State Mining Lease, issued to Mogul in 1965 under the Mineral Development Acts 1940 – 1960, enables the Minister for the Marine and Natural Resources to require specific works to be carried out on a once-off basis to rectify lands affected by the lessee's mining activity. At its height it employed just over 500 people, mostly men. A spur was built off the main Limerick to Dublin rail line to allow ore to be transported for export.
Source/ Local conversations and internet
Artwork/ Fiona Woods
11/Front
A painting of the new Mogul Mines complex by chief chemist at Mogul, F. R. Janes, 1967, lent by Éamonn De Stafort.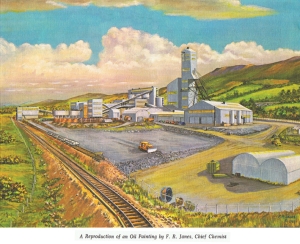 11/Back
Newspaper clippings,1982, lent by Robin Wallace.